---
Here is the latest featured review of a Sherlock Holmes Pastiche: "The Case of the Left-Handed Lady" by Nancy Springer.
Sherlock Holmes Pastiches and Reviews:

"The Case of the Left-Handed Lady" by Nancy Springer
Reviewed By Scott Harker
Publisher: Philomel Books, Copyright 2007, First Edition.
The Case of the Left-Handed Lady by Nancy Springer is the second novel in a series of Sherlock Holmes Pastiches revolving around the sister of Sherlock Holmes. Enola Holmes is several years younger than her brothers, Sherlock and Mycroft. In fact, she is not yet of legal age to be on her own. But when her mother left to pursue her own adventures, Enola has had to take care of herself (this all occurred in the first novel of this series.) Currently she resides in London and works as a finder of lost things under an alias. Enola's brothers have threatened to place her in a boarding school for Proper Young Ladies, so she is in hiding from both Sherlock and Mycroft Holmes.
The Story: Sir Eustace Austair's teenage daughter, Lady Cecily, has disappeared from her room without a trace. Enola is determined to find her. To do so she must roam the dark, midnight streets of London where murderers roam. Disguised as a silent nun, Enola follows clues while avoiding being discovered by her brother Sherlock. Well, she almost avoids being discovered...
The question arises, is it possible that Lady Cecily is a runaway, who does not want to be found? Or is she being held captive through the use of hypnosis and manipulation?
It is certainly enjoyable, joining Enola as she walks and runs through the cobblestoned streets of Victorian London figuring where Cecily is and how to rescue her. She makes deductions as well as her older brothers do...
The Writing: Nancy Springer is the writer of many works geared to teenage audiences (young adults). But Holmes fans of any age will enjoy her Sherlock Holmes pastiches. The writing is clear and detailed. The plots are intriging and the characterizations are finely drawn.
Many readers will be delighted with Springer's portrayal of Sherlock Holmes, as seen through the eyes of his younger sister. Although I do not believe that Mycroft would be as short sighted, socially, as Springer sees him, but unusual interpretations are part of the fun of writing and reading a pastiche...
The Rating: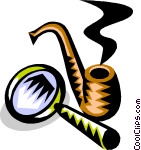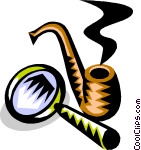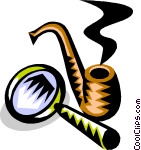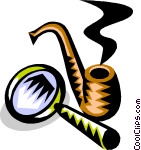 ... I give this book 4 "Pipes." This is a well-written Sherlock Holmes pastiche, that the reader will be hard pressed to put down, once started. In fact, you should pick up all of the Enola Holmes novels...
To Purchase on Amazon: The Case of the Left-Handed Lady: An Enola Holmes Mystery
---
Dedicated to the World's First Consulting Detective: Sherlock Holmes!
To see a listing of 100's of Sherlock Holmes Pastiches with abbreviated reviews,
please visit: List of Sherlock Holmes Pastiches
---
Sherlock Holmes: Nemesis

Sherlock Holmes vs Arsene Lupin
More Sherlock Holmes related videos can be found at Sherlock Holmes Videos

Powered by WebRing.
This site is a member of WebRing.

To browse visit
Here.
Possibly related posts: